Well folks, it's hard to believe, but it's October. That means that Halloween is just around the corner! Halloween is probably the greatest holiday ever, mostly because of all the free candy. When you're trying to figure out what the heck you're going to do for your costume this year, don't forget to include your OTF in the Halloween fun. If you're like me and aren't necessarily one for going all out in a head-to-toe Halloween costume, you can still be part of the holiday fun. One way you can be "festive" without being overly such is by carrying a black or orange OTF—simple, discreet, Halloween-esque. Done and done.
It's not hard to find a black OTF; just about every knife model is going to be available in black because it has become the standard color for knife handles. However, there are also plenty of orange knives out there. I'm kind of a purist when it comes to Halloween colors, so for the sake of this post, Halloween colors consist only of black and orange, not purple, green, or any other colors that advertisers are trying to throw in the mix these days.
I know you want to carry an OTF on Halloween, so here are some of the best OTF knife options we can give you.
Black & Orange OTFs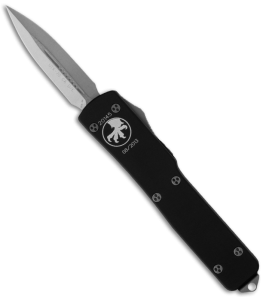 If you're looking for the perfect EDC for Halloween, you'd better consider the CA Legal OTF from Microtech! It is black and has a convenient, inconspicuous size for everyday carry. Best of all, it's a sweet OTF that's legal in most places.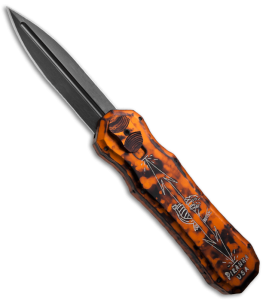 This OTF is under 5 inches in length, making it another great option for everyday carry! Best of all, it is possibly the best OTF knife for Halloween because the handle is both orange and black. There are some Halloween bonus point for you right there.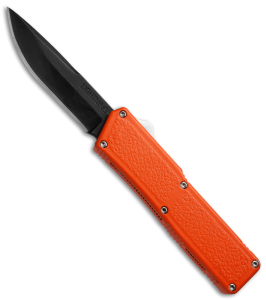 You know this knife; the Lightning OTF is basically the king of all OTFs. You can carry it every day without feeling too bad about using it because it's super affordable, but make sure to carry it with you on Halloween! You can get it with a black or orange handle, and it's available with a satin or black blade.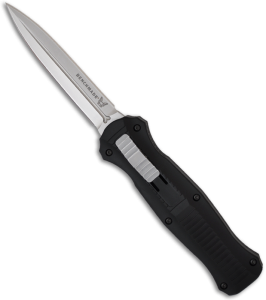 Iconic of Benchmade OTFs, the Benchmade Infidel is one OTF your collection isn't complete without! It has solid action, a great warranty, and excellent materials.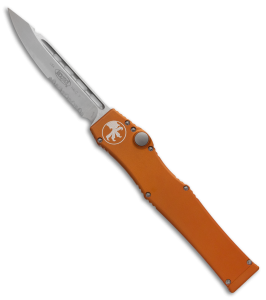 We found out recently that Microtech's two most iconic OTFs are the Microtech Ultratech and the Microtech Halo. Well, it just so happens that you can carry around a Halo that just screams "Halloween!" The Halo is actually available in quite a few colors, but the orange is my favorite and it's extremely appropriate for this time of year.
What OTF will you be sporting this Halloween season? Even though this post just covers a handful of black and orange OTFs, I think it shows that there are lots of OTFs out there that are orange and black and that would make great EDCs during the month of October.
If you still need to find that perfect EDC for Halloween, be sure to head on over to Blade HQ to check out all the options there are for you! What do you think is the best OTF knife for Halloween?