The name Microtech is synonymous with OTF.  You just can't be a fan of one, without being a fan of the other.  Microtech is a company that is phenomenal when it comes to making an OTF.  Their precision to detail makes for impressive designs. These awesome, fully automatic knives are ideal for EDC. That's why the Microtech Ultratech has become one of the most popular OTF's on the market.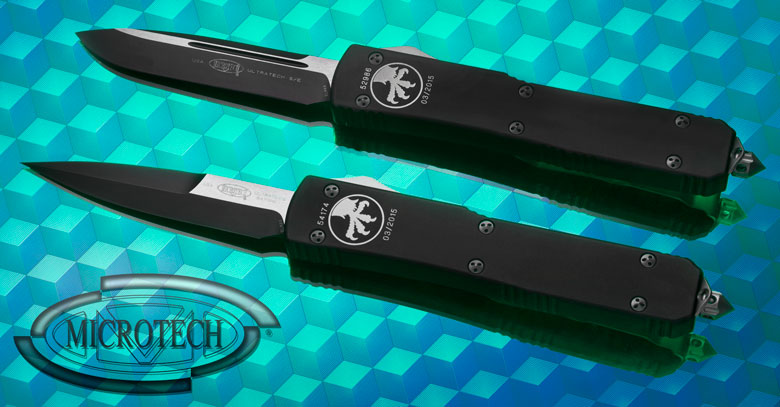 The handles are all made from high quality Aluminum.  Offering strength and durability where it's needed most.  The Microtech Ultratech comes in a wide variety of colors, so you could even have a different color every day of the week.  Keep it classy with black.  Stand out with red.  Keep it Camo with green.  Feeling crazy?  Go with orange or purple.  No matter what your mood, there is a color to go with it.  Why not get them all and complete the spectrum?  The handle itself is equipped with glass breaker on the end.  Making this knife great for EDC and tactical uses.
Microtech offers a few materials and designs when it comes to the blade.  For the most part, they are made from an Elmax steel.  The Elmax material allows for high wear resistance, great compressive strength, and extreme resistance to corrosion, all while making it very stable.  Meaning this knife will keep its shape and design after taking quite a bit of abuse.  They also offer a rare material blade, made from beautiful, durable Damascus.   The blades come in many different styles, including drop point, Tanto, and Dagger.  So no matter what type of blade you want, chances are they have it.
If you are looking for a great new OTF, or you just want to add an impressive piece to your collection, you just can't go wrong with the Microtech Ultratech.  With so many options and varieties, there has to be at least one that appeals to you.  With their durability, strength, and awesome design, you just can't go wrong.  Head on over and pick yours up now!
Do you have a favorite Microtech Ultratech?  Let us know!