There are definitely more Microtech knives on the OTF knife blog than pretty much any other brand, so I felt like it was time to highlight a different brand. This Protech seemed like the perfect candidate to highlight: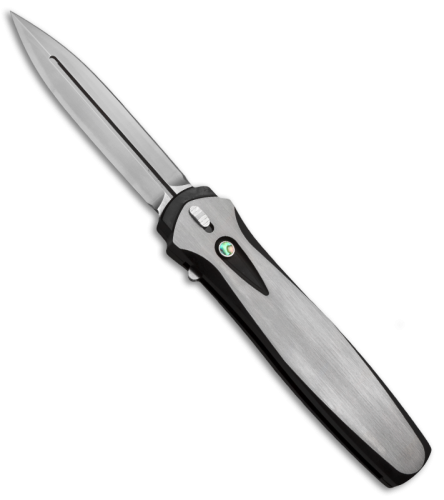 The Protech Dark Angel is a full-sized OTF knife with single action, but the one you see above is a custom version of the Dark Angel. The blade is made of 154-CM, and the handle is made of stainless steel. The two-toned finish adds some nice contrast to this knife, and I really like it. The black somehow elevates the level of elegance that the Dark Angel already has.
My favorite part of this knife is actually one of the most discreet parts—the push button insert. It's made of abalone, which is a type of sea shell. Many recognize it from its rainbow-like color.
The overall length on this OTF is 8.875 inches, and the blade is 3.75 inches in length. It weighs 7.72 ounces, has excellent firing action, and is made in the USA.
This is a beautiful piece that would round out any knife collection. Get your Protech Dark Angel at Blade HQ.