SHOT Show is practically here!
For any of you who aren't familiar with SHOT Show, allow me to enlighten you. SHOT Show is basically the best thing ever for knife enthusiasts. Manufacturers and knife makers come to the show and display their new product for the upcoming year, and everyone else gets to drool over everything there is to look forward to. Now, SHOT actually starts next week on January 20, but Blade HQ got a few sneak peeks at what will be introduced at SHOT Show. There will be lots more updates on SHOT Show from Blade HQ in the coming days and weeks, but I wanted to show you guys one 2015 OTF that you'll be seeing next week. Behold, the Benchmade Pagan OTF: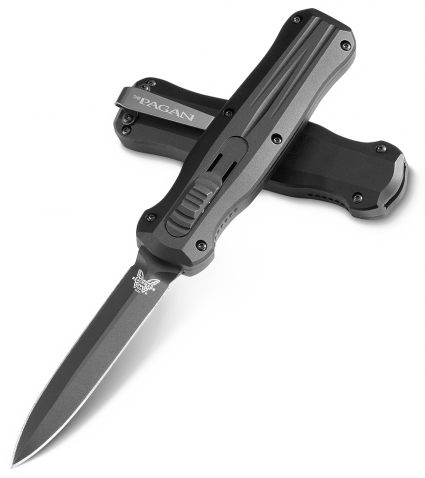 Up until now, when you think "Benchmade OTF," the Benchmade Infidel is no doubt the knife that comes to mind. This new OTF is about to change things.
The Benchmade Pagan is a top-of-the-line OTF, which is nothing less than you'd expect from Benchmade. It is a decent-sized OTF; it comes to 8.96 inches overall in length, and it has a 3.96-inch blade. The spear-point blade has a chisel grind and is made of 154-CM steel, which is a high quality steel. Its carbon content is 1.05 percent, so the blade can hold an edge well. It also has good hardness, and the toughness is decent considering the hardness of the steel. The handle is made of aluminum and the overall weight on this OTF is 5.11 ounces.
As far as functionality goes, the action on this OTF will be nothing less than the best. It has double action, which is the best kind of action, in my opinion. Double action makes using an OTF effortless, and anything that takes no mental energy to operate is a winner in my book. Double action OTFs are also super fun to use and the clickity clack of the OTF deploying and retracting again is just plain awesome.
This knife is intended for right-hand, tip-down carry. It is available with both a satin finish and a black finish so you can be sure to get the overall feel you want in this OTF. The handle itself is 5 inches long and 0.60 inches thick.
It's not super often that new product comes out in the OTF world. At least, it seems that way to me. Because of this, it's always super exciting when new product comes out! I hope this 2015 OTF from Benchmade gets you stoked about SHOT Show and about the new year.
Don't forget to stay tuned to Blade HQ's social media for more SHOT Show updates that will be coming your way!