It has been a while since we have seen the release of a brand new OTF Automatic Knife. This year Benchmade has released the Epidemic under their Heckler and Koch line. At first glance it kind of looks like a knife put together with legos (I think it's because of the red button), but after holding this knife I must say that I am pleasantly surprised.
This is a quality Out the Front knife that features a lightning fast open and close action. The blade on the knife is made from D2 steel, which for me is not that big a deal. Some people don't like D2, for a variety of reasons. The reason I have heard the most is that D2 can be difficult to sharpen. I disagree, it is only difficult to sharpen if you don't have the right materials. Using D2 on this blade instead of some other "fancy" steel brings the price down on this knife, and for me that is a good thing. I love that the blade shape is spear point. Dagger style blades look the best on OTF knives, but having both edges sharpened just isn't practical. Having a spear point on the knife gives the best of both worlds.
When I first saw this knife, I worried that the handle wouldn't be very comfortable. It is made from T-6 aluminum, and sometimes aluminum doesn't feel comfortable if it isn't machined correctly. Then again, you don't really see G-10 or Micarta handles on OTF knives. The jimping on this knife appears aggressive, but I found that there were no hot spots on my hand while I was holding the knife.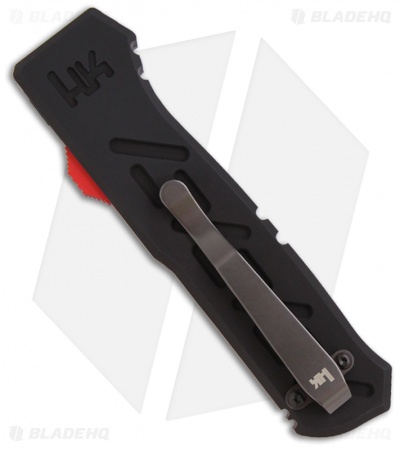 The thumb button is flashy. It definitely stands out which some guys will like, and others wont. It's not the knife for the guys that need something all black. Since I got the knife the red button has grown on me a little bit.
Here are the Specs on the knife :
Overall Length: 8.22″
Blade Length: 3.44″
Closed: 4.78″
Weight: 3.86 oz
Heckler and Koch Epidemic at Blade HQ!