OTF (out the front) knives are one of the biggest inventions that the knife industry has seen. It seems that everyone is trying to get their hands on at least one. If you like to have a little more character to your knife collection then have I got something for you! As some of you may know, OTF knives aren't as common as your manual folders, side autos and spring assists. They are a lot of fun. I can sit for hours just opening and closing my OTF.
Today we are going to look at some of the custom OTF knives out there. The bulk of the OTF knives come from Microtech. There are several other brands out there that people seem to just overlook.
Let's look at some of the custom OTFs Microtech has graced us with:
The Microtech Custom Makora with Diamond Plate and Blued Damascus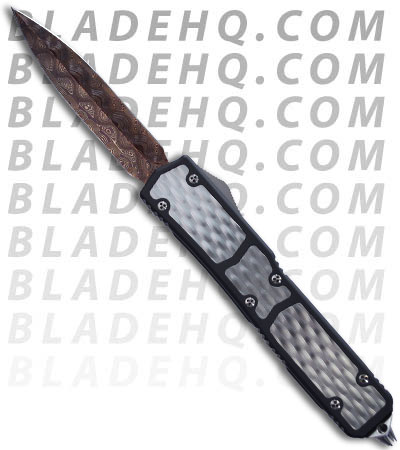 The Makora is a double action knife with a titanium fire button. This knife comes with a beautiful blued Damascas blade. It is double edged and the handles are diamond plate inserts with 6061 T6 aircraft aluminum handles making it super lightweight. All of the hardware is a satin finish. The glass breaker is pretty unique on these also. You can find the Microtech dagger emblem on the pocket clip. This is a must have if you are collecting Microtech knives.
The Microtech Custom Splash Halo V Knife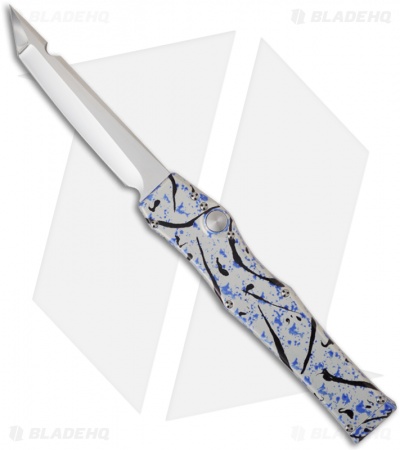 This Custom Halo V features a black, blue and silver "Splash" finished handle from Anolaze that is beautiful and truly unique. The blade has a high polished finish, which has been personally ground by Anthony Marfione. The hardware is satin finished. The knife closes via an aluminum retracting handle at the bottom of the knife that has manufacture date (03/2011) and Marfione Dagger. A khaki Maxpedition pouch is included with this Halo V. At almost 11″ the Halo V is a big knife with a big blade. To ensure the best blade/handle ratio the tips on these knives come right up to the top of the handle (don't drag your finger across the blade's exit point). The action on these is fast, they hit hard, and the lock-up is excellent.
Let's take a break from Microtech knives and go to something that is often overlooked.
The Custom Alex Shunnarah A.R.S. OTF Knife: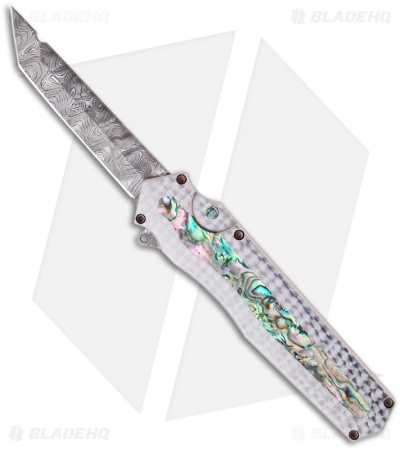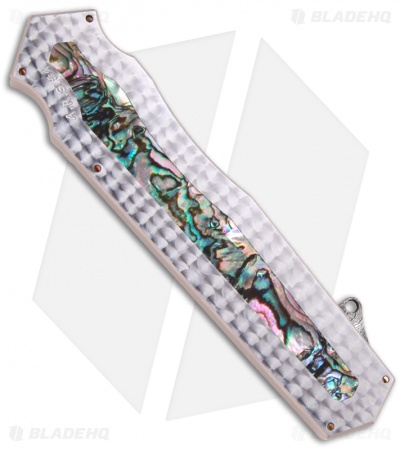 This is one of 18 knives total made that is guaranteed to turn some heads! The tanto blade is a stainless Damascus blade made by the one and only Chad Nichols. He has some of the most beautiful Damascus designs ever. The handle is made out of 416 stainless steel with abalone inlays. Also, the push button is abalone. The A.R.S. is known to be a very thin OTF coming in at only 3/8 inch thick. The body of the handle is made out of an awesome jewel finish. This is a knife that I wouldn't mind getting my hands on.
Now let's take a look at something that isn't as popular as Microtech, but is more common than ARS.
The Benchmade Gold Class Infidel OTF: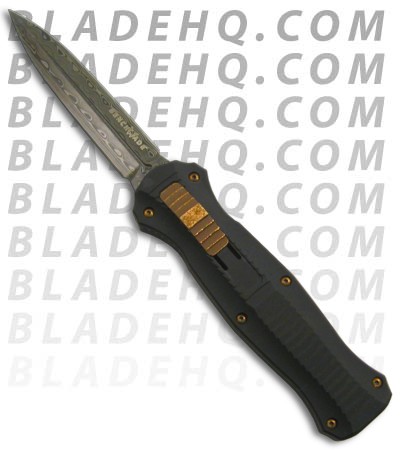 Benchmade knives have yet to disappoint me or even let me down. I can't get enough of the knives they are putting out now days. I digress. We have here an acid etched damasteel Damascus blade. The handle is black coated with 6061 T6 aircraft aluminum that makes the knife super light to carry-the only carrying that should be done with this knife is right to you display case! All of the hardware and the liners are heat colored. There were only 50 of these; and Gold Class Benchmade items are the hardest to get your hands on out of all their classes.
When it comes to custom knives, it is all about having something unique. Saving the most unique for last: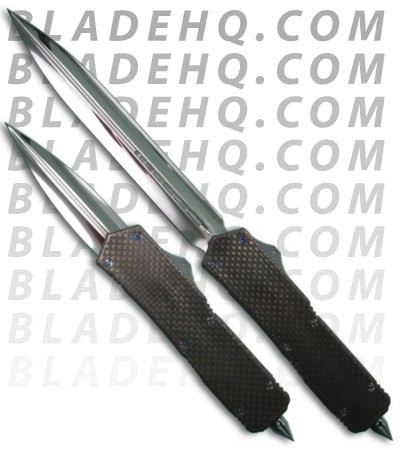 Here is something you don't see very often. This is what happens when you get an OTF where the blade is much larger than the handle. The first picture shows the blade retracted and then fired out. However, to rectify the situation, Microtech made a sheath for it so you don't have to worry about poking yourself. Most glass breakers are sharp, but this one surpasses the rest. The glass breaker is almost as point as the knife! When this knife is in the open position, it comes in at over 12 inches long. The bottom of the handle is 6061 T6 aluminum and the top is carbon fiber. The D2 steel on this comes razor sharp, right out of the box.
These custom knives aren't really easy to come by. If you ever do come across a custom OTF, I suggest grabbing it and locking it up. If you keep it for a while, who knows? Maybe the value will shoot up even more.